New Membership Application Form

Membership Renewal Form Only

SCA Application for Horse Registration Form

Rookie Horse Nomination Form

Horse Ownership Transfer Form (must be completed by Owner not New Owner)

Campdraft Nomination/Entry Form

AS/NZS Helmet Standards & Selection Guide
Southern Campdrafting Assoc. Rule 5 Page 22

Helmet update from Horse Safety Australia


SCA Rule Book

NCCA Members Protection Policy

NCCA Anti Doping Policy

NCCA Social Media Policy

SCA President Report

4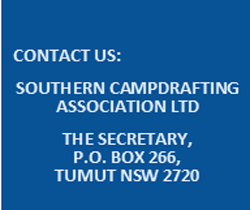 3 EASY STEPS TO BECOME A MEMBER
1. Complete SCA Membership Application Form above OR official Forms available at SCA Affiliated Campdrafts or Schools. Ensure 'Public Liability Waiver' is signed
2. Complete Horse Registration Form (no cost to register a horse)
3. Post with Membership Fee, if paid at a Campdraft the Secretary will forward onto the SCA Office.
ALL MEMBERSHIPS INCLUDE PERSONAL ACCIDENT INSURANCE AT ALL SCA AFFLIATED CAMPDRAFTS AND SCHOOLS.
MEMBERS RECEIVE; MEMBERSHIP CARD & BADGE, RULE BOOK, BI-MONTHLY MAGAZINE (includes campdraft programs), CALENDAR, ENTRY FORM TO DRAFTS, HORSE REGISTRATION FORM.